CPPS Parent/Guardian: CURRENT/RETURNING STUDENTS. Please be sure to go into Skyward to complete the registration process for your student(s) for the 21-22 school year. There is no need to come into the schools or registration fair to complete this process. If you need in-person help, you may go to your child's school building for 1:1 assistance beginning August 17.
https://www2.scrdc.wa-k12.net/scripts/cgiip.exe/WService=wcollegs71/seplog01.w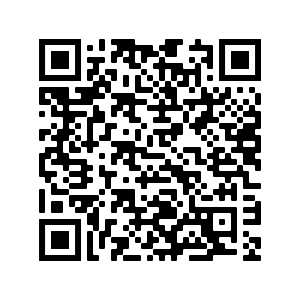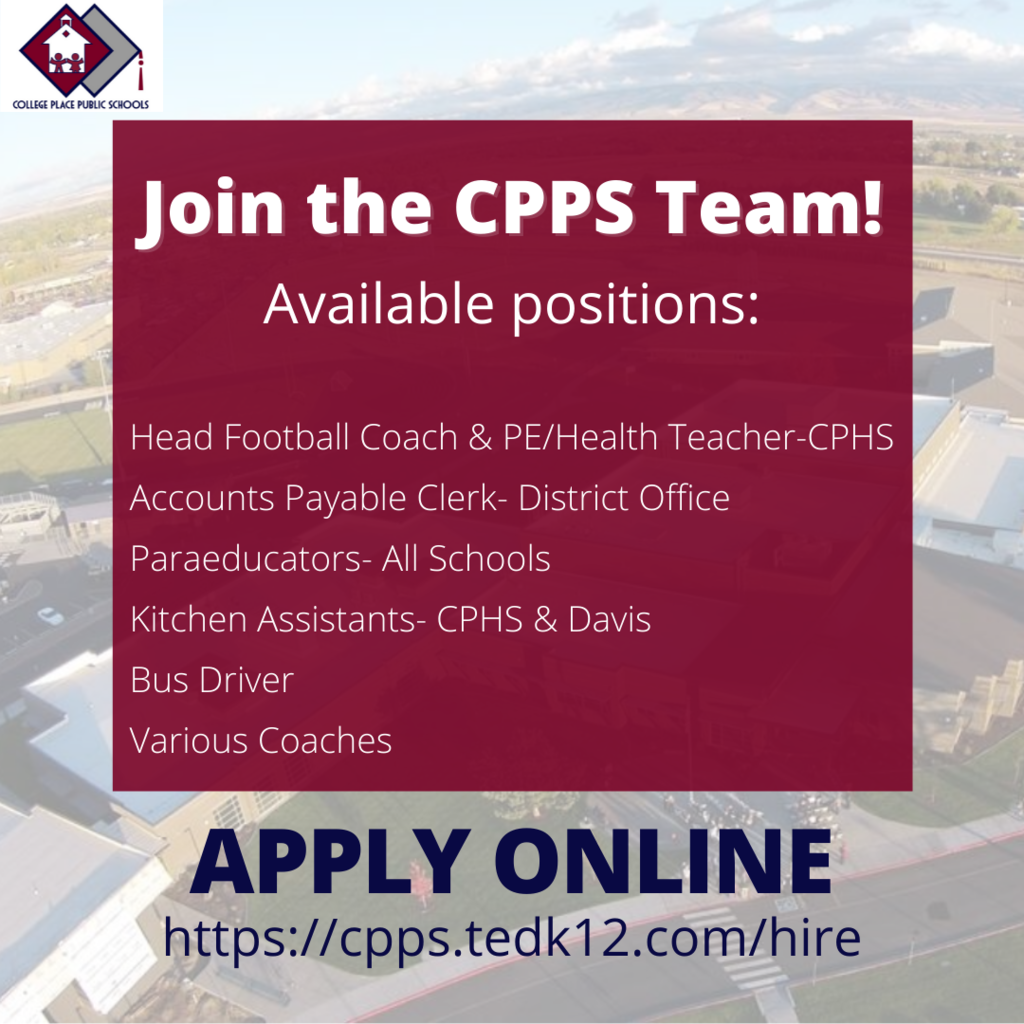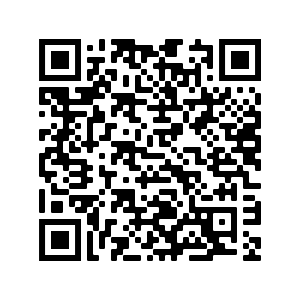 Public viewing period for CPHS Computer Science Curriculum Adoption is as follows: July 5-16th, 8am-4pm @ the District Office July 8th, 5pm-7pm @ the District Office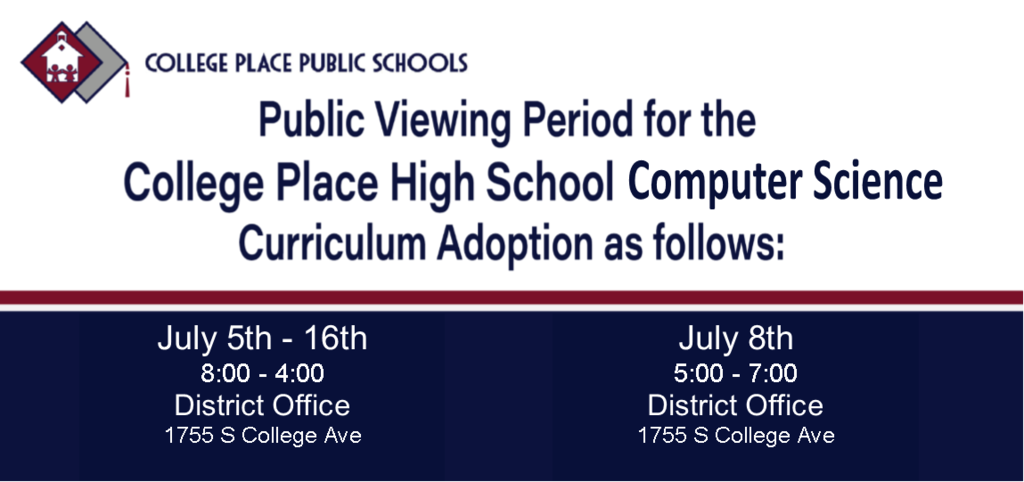 There will be no Meal Service or Summer School programs Monday, July 5. CPPS hopes you have a great long holiday weekend.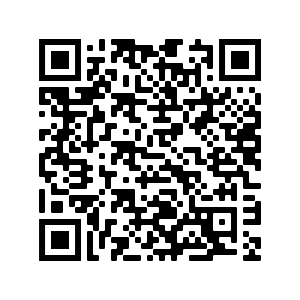 Summer Meal service will start Monday with locations at Valle Lindo & Kiwanis Park. Meals containing both breakfast & lunch will be available for pick up 11:30am-12:00pm Monday-Thursday. There is no meal service on Fridays. All meals are free to children up to 18 years old. Students participating in Summer Groove will be offered Free meals at the end of their program day.

Sager Middle School 8th Grade Graduation is under way!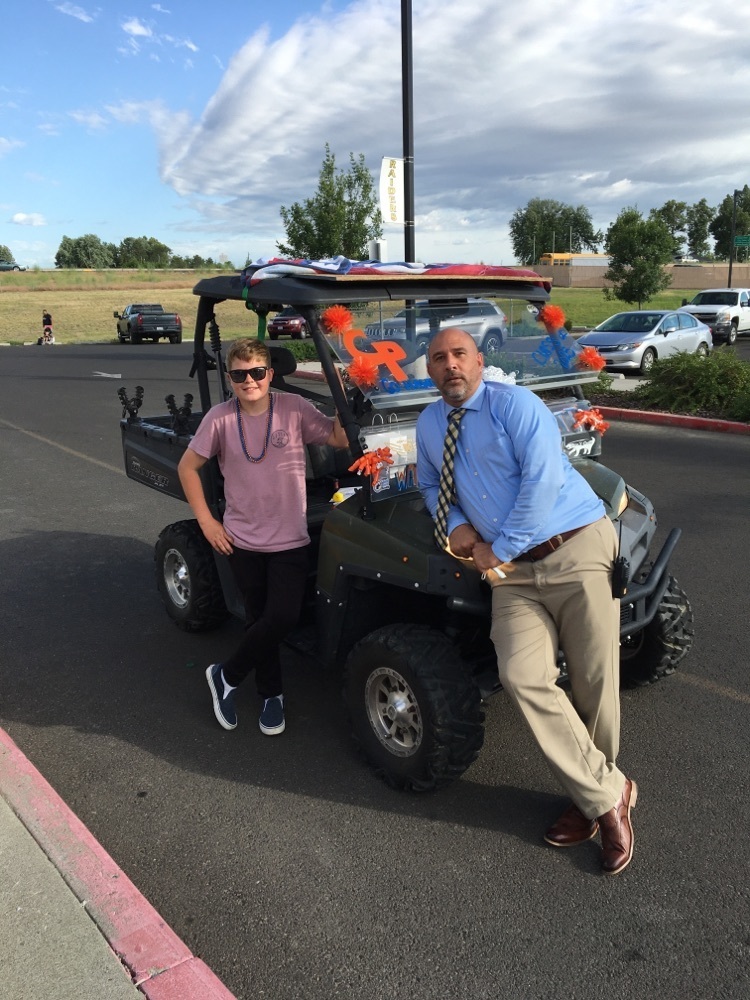 8th Grade Promotion is tonight! June 14th starting at 6pm. Promotion celebration will be drive-thru style. One car per family. Cars will line up by the football stadium and exit from the High School parking lot. Teachers will be standing along the route to congratulate students.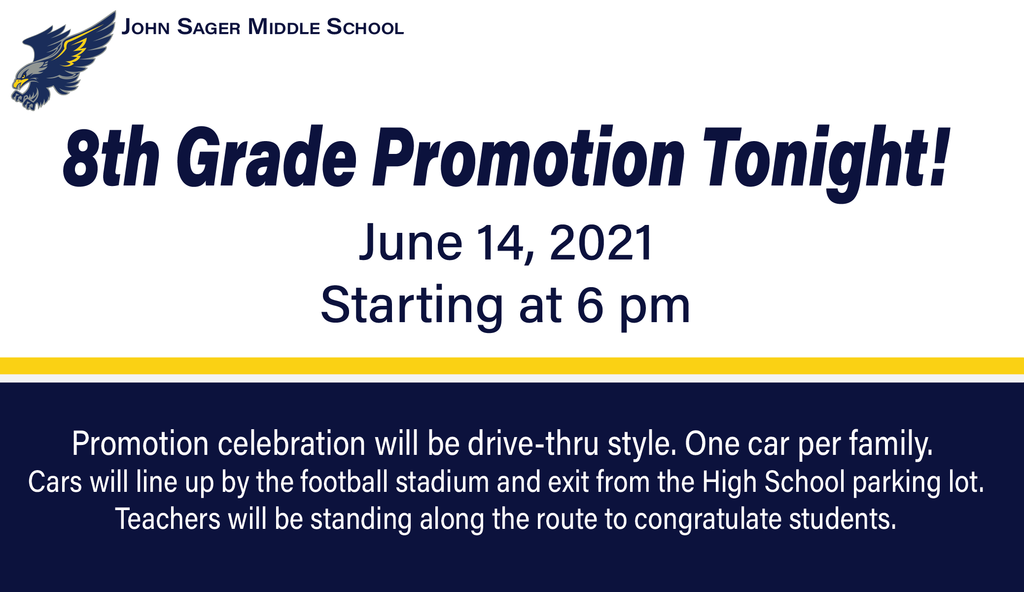 Many thanks to the CPHS administration and team for an unforgettable 2021 Graduation.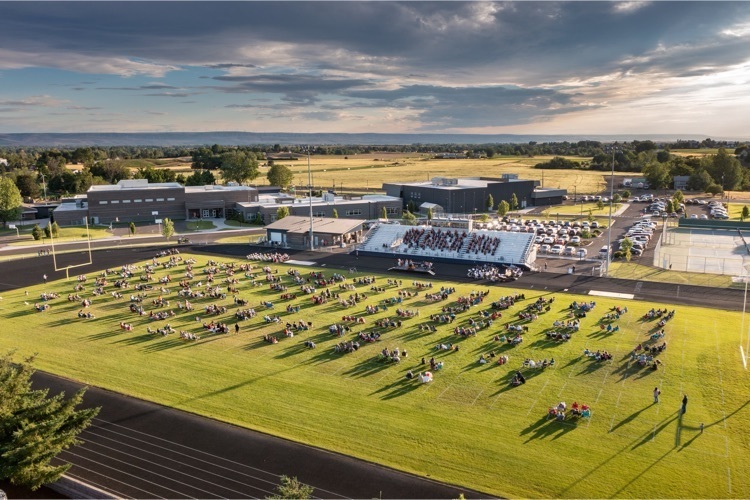 Congratulations CPHS Class of 2021! Hawk Nation is proud of you!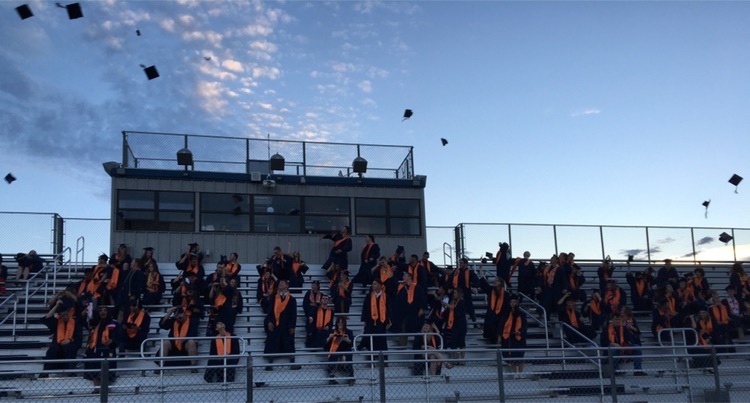 15 minutes and counting until CPHS graduates it's fourth graduating class! Class of 2021! Go Hawks!

There will be no meal service Wednesday, June 16-Friday, June 18. Summer Grab & Go meal service will be available Monday-Thursday, June 21-July 29 at Valle Lindo & Kiwanis Park from 11:30am-12:00pm. Students participating in CPPS Summer Grove will be offered Grab & Go meals at end of program day. Grab & Go bags include breakfast & lunch, & are FREE to all community children up to 18 years old. There will be no meal service July 5.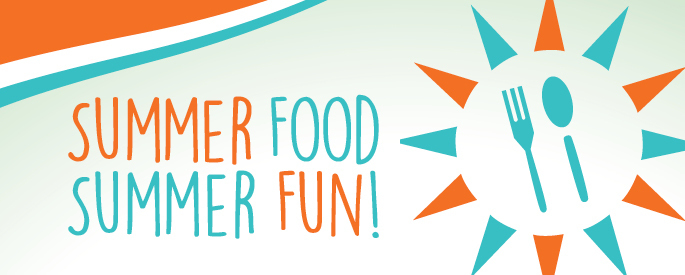 Class of '21 practicing for the big day tomorrow at 7:00 pm! Go Hawks!

Annual CPHS Grad Walk is back! Congrats Class of 2021 CPHS Hawks!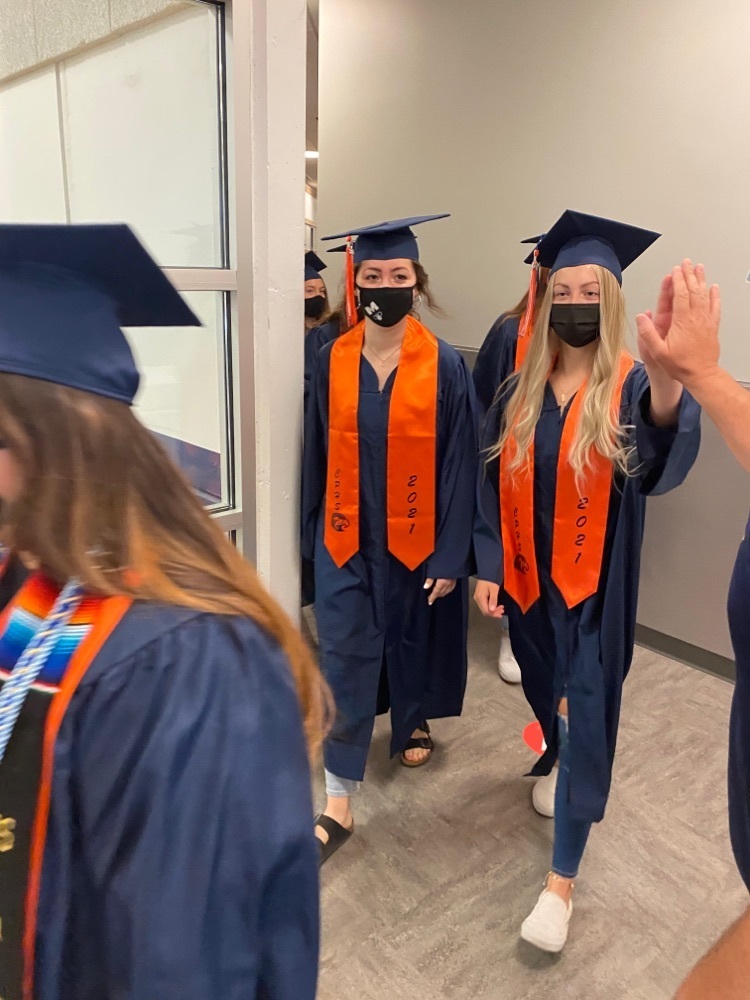 Registration for new students in all grades is open. While spots are not limited, options for courses and our ability to honor requests are limited. Many of these types of things are first come, first served! Register Now for Fall 2021-2022.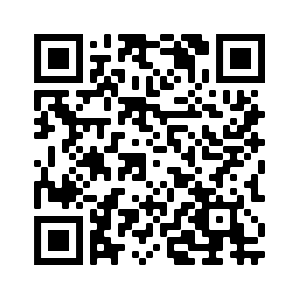 CPHS Graduation is set for a 7:00 pm start time on Saturday, June 12th! A misprint on Grad tickets indicates a 7:30 pm start time that is INCORRECT. Start time is 7:00 pm and tickets are REQUIRED. Go Hawks!
Public Viewing Period for the College Place High School Animal Science Curriculum Adoption is as follows: -June 8th-22nd, 8:30an-4:00pm @ the District Office -June 14th, 5:00pm-7:00pm @ the District Office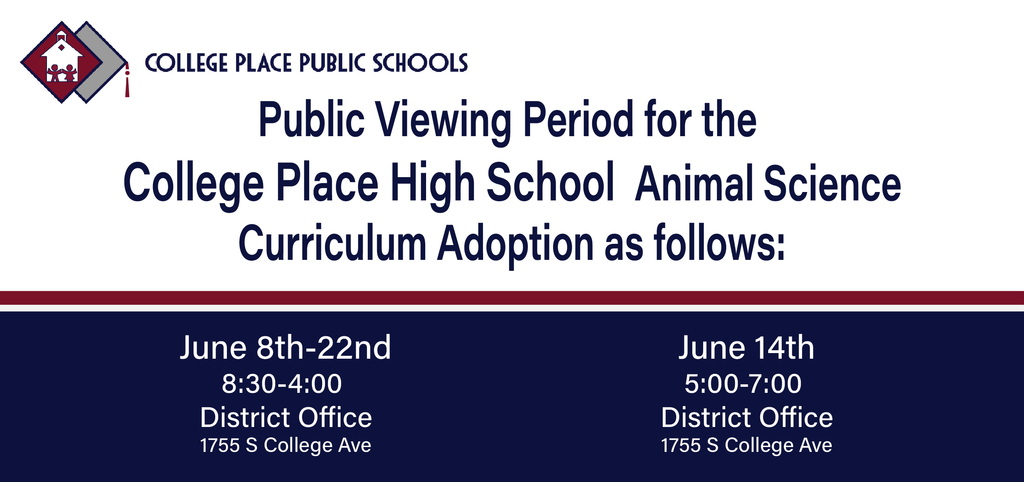 CPPS COVID Vaccination Clinic tomorrow June 9th. All students ages 12 and up eligible. Get your forms at the main office and get registered!