Please be aware that CPPS is experiencing intermittent internet and phone issues.

The Family Income Survey helps to fund other programs and may waive other fees for your family – Make sure to fill yours out today!

UPDATED TIMES- Come join us at our Progressive Dinner and Open House! Meet our staff. Take a tour of our beautiful schools and enjoy some time together. Davis 4:30-6:00 - Snack , SMS 5:30-7:00- Pizza, CPHS 6:00-7:30 - Dessert Únete a nosotros en nuestra Cena Progresiva y Jornada de Puertas Abiertas. Conoce a nuestro personal. Realiza un recorrido por nuestras hermosas escuelas y disfruta de un tiempo juntos. Davis 4:30-6:00 - Merienda - SMS 5:30-7:00- Pizza CPHS 6:00-7:30 - Postre

The CPPS Registration Fair is today from 9:00 - 3:00 at each school - Need assistance to enroll your student for school, meet with the nurse for student health needs, sign up for sports and learn about clubs? This is a great way to make sure your student is ready to start school on Monday, August 28th . The WW Care-a-Van will be at Davis School for booster vaccinations and more.
Surplus Yard sale coming up; Thursday, August 17, 2023 from 8:00 to 2:00. Click the attached link to see a list of items.
https://5il.co/1zs5u

Attention Parents or Guardians of CPPS Students, if you have not done so already, please login to Skyward Family Access in order to complete the online registration process for the 2023-2024 School year. It is crucial to finish this process as teacher assignments and class schedules for your student(s) cannot be finalized until the registration is complete. If you have any questions or need assistance, feel free to call us at 509-525-4827. Thank you.

CPHS Cheer Carwash Fundraiser - Saturday July 15th from 10am-2pm Support the Hawks Cheer Squad and get your car or truck looking sharp!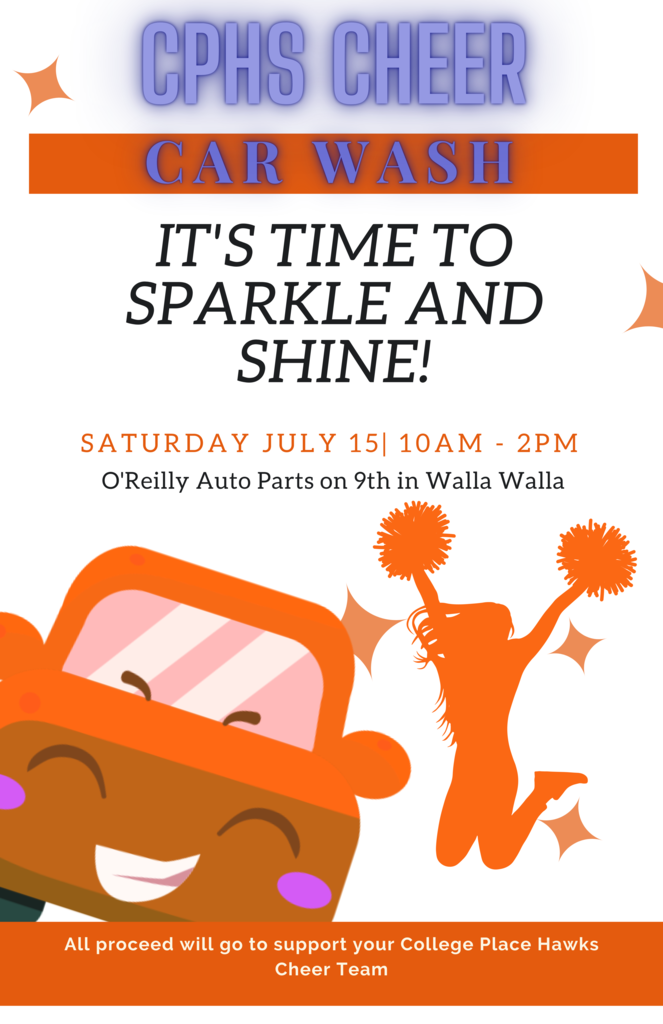 Support the Raiders and enjoy some Mod Pizza!

Support the Sager Raiders and enjoy some Pizza!

Welcoming the new 6th graders to Sager Middle School today (and future Hawk Class of 2030)! See you next Fall!

Congratulations to our College Place PD Chief Melanie Avalos and FD Chief Sofia Avalos! Chiefs for a Day!

SAGER PTO MOD PIZZA FUNDRAISER!
Reminder Monday, June 5th is an early dismissal day in CPPS for grades and reports. Davis Release: 11:40, SMS/CPHS Release: 12:00.

Snow day makeup!

Happy School Nurse Day! Thank you for your amazing dedication to our student's health and well-being. Learn more at schoolnurseday.org #SND2023

Teachers we want to express our appreciation for the hard work and dedication each and every one of you brings to our schools. As teachers, you inspire our students every day to achieve their best and to never give up. Your passion, creativity, and commitment to your students are amazing, and we are so lucky to have you as part of our team. Your efforts do not go unnoticed and are deeply appreciated. Thank you for all that you do, not just this week, but throughout the year. You are making a positive difference in the lives of our students! #ThankATeacher

Reminder that Friday, May 12th is a Snow Make up day for December 5, 2022. The schools will operate on the normal late start Friday schedule.

We would like to thank our food service team for their commitment and effort in preparing high-quality, nutritious meals for our students every school day. Happy School Lunch Hero Day! #SchoolLunchHeroDay

Celebrating Our Differences. #AAPIHeritageMonth