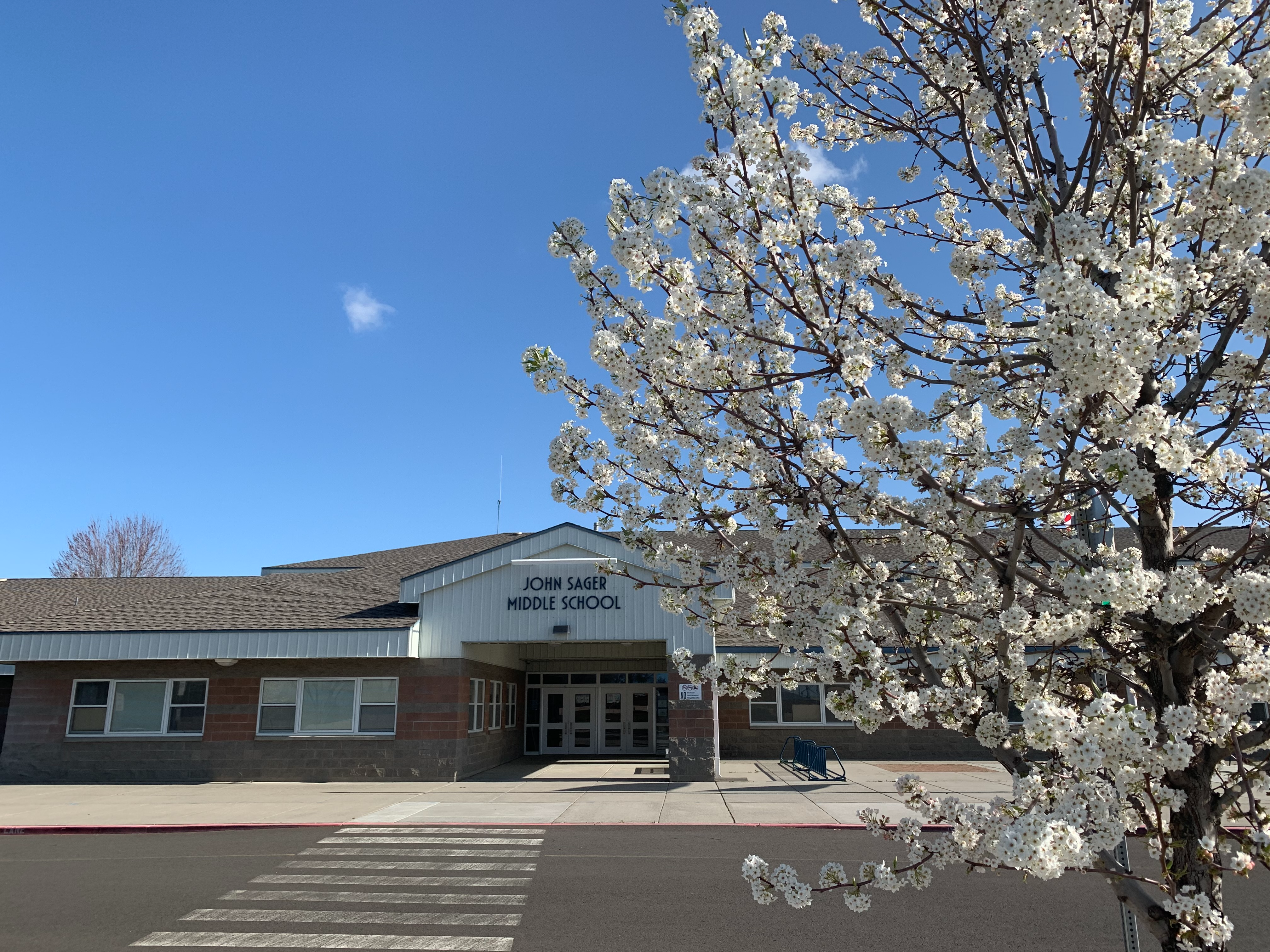 August 2022
LETTER FROM THE PRINCIPAL
Dear John Sager Middle School Families:
Welcome to the 2022-2023 school year! Our middle school staff family welcomes you and your children. We are proud of
our commitment to high academic and behavioral expectations for our students.
This year will be the continuation of a schedule that supports uninterrupted instruction in our classes. This schedule will ensure time for
remediation and lesson extensions for every student according to their needs. We are hopeful that by working together across each grade level
and using all support personnel to this end we can better differentiate instruction for all of our students. We are a learning community here at John
Sager Middle School. We will continue to research and implement best practices as we partner with parents and the community to serve the
students to the best extent we can. As I begin this year as principal of John Sager Middle School, I will to work diligently with parents and faculty to
foster an atmosphere that promotes a learning community characterized by student centered instruction and decisions, academic excellence,
trust, respect, community involvement, excellent communications, and recognition of both student and staff achievement. We are excited to
announce that on Wednesday, August 17th there will be a Registration Fair from 8:00-3:00. If you are new or returning, come get help with online
registration, athletics/activities information, and get your health services questions answered.
Beginning this fall, all Front/Main exterior building doors will be locked during the school day. You will no longer be able to enter the lobby area in
our school until you have pressed the red call button on the device outside the door and been admitted. There will be directions outside of our
building and the device looks like the one below. Thank you for helping keep our schools safe. I am committed to working in collaboration with you
to continue to develop and implement this shared vision. Working together as a team we will move forward in our mission this new school year to
create a nurturing, disciplined, and challenging environment in which all students can learn at optimum levels and become responsible members of
society. We have so much to be proud of as a staff, family, and community at John Sager Middle School.
Sincerely,
Susan Bell
John Sager Middle School Principal
Agosto 2022
Estimadas familias de la Escuela Secundaria John Sager:
¡Bienvenido al año escolar 2022-2023! Nuestra familia del personal de la escuela intermedia le da la bienvenida a usted y a
sus hijos. Estamos orgullosos de nuestro compromiso con las altas expectativas académicas y de comportamiento para
nuestros estudiantes.
Este año será la continuación de un horario que apoya la instrucción ininterrumpida en nuestras clases. Este horario
asegurará tiempo para la remediación y las extensiones de lecciones para cada estudiante de acuerdo con sus necesidades.
Tenemos la esperanza de que al trabajar juntos en cada nivel de grado y usar todo el personal de apoyo para este fin, podamos diferenciar mejor la
instrucción para todos nuestros estudiantes.
Somos una comunidad de aprendizaje aquí en la Escuela Secundaria de John Sager. Continuaremos investigando e
implementando las mejores prácticas a medida que nos asociamos con los padres y la comunidad para servir a los estudiantes en la mejor medida
posible.
Al comenzar este año como directora de la, trabajaré diligentemente con los padres y la facultad para fomentar una
atmósfera que promueva una comunidad de aprendizaje caracterizada por la instrucción y las decisiones centradas en el
estudiante, la excelencia académica, la confianza, el respeto, la participación de la comunidad, las excelentes
comunicaciones y el reconocimiento de los logros tanto de los estudiantes como del personal.
Nos complace anunciar que el miércoles 17 de agosto habrá una Feria de Registro de 8:00 a 3:00. Si es nuevo o está regresando, venga a obtener
ayuda con el registro en línea, información sobre atletismo / actividades y obtenga respuestas a sus preguntas sobre los servicios de salud.
A partir de este otoño, todas las puertas exteriores del edificio delantero / principal se cerrarán con llave durante el día escolar. Ya no podrá
ingresar al área del vestíbulo en nuestra escuela hasta que haya presionado el botón rojo de llamada en el dispositivo fuera de la puerta y haya sido
admitido. Habrá indicaciones fuera de nuestro edificio y el dispositivo se parece a este. Gracias por ayudar a mantener nuestras escuelas seguras.
Estoy comprometida a trabajar en colaboración con ustedes para continuar desarrollando e implementando esta visión compartida. Trabajando
juntos como un equipo, avanzaremos en nuestra misión este nuevo año escolar para crear un entorno enriquecedor, disciplinado y desafiante en
el que todos los estudiantes puedan aprender a niveles óptimos y convertirse en miembros responsables de la sociedad. Tenemos mucho de qué
estar orgullosos como personal, familia y comunidad en la Escuela Secundaria John Sager.
Sinceramente,
Susan Bell
Directora de la Escuela Secundaria John Sager