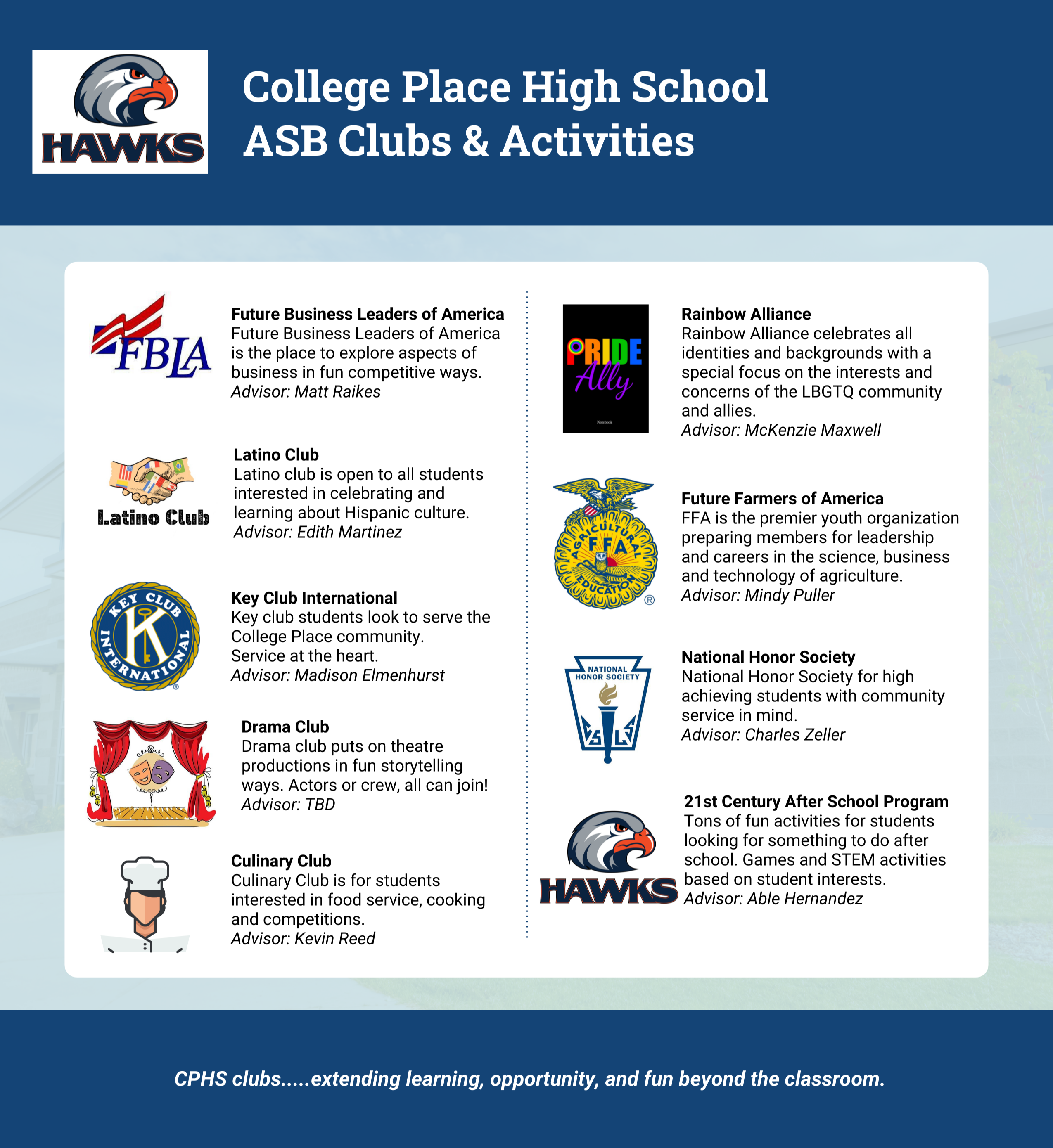 ACTIVITIES & CLUBS
College Place High School is a member of the Washington Interscholastic Activities Association (WIAA). College Place is proud to offer students the opportunity to participate in a number of clubs and activities. If you are interested in participating in one or more of the following clubs and activities contact the Activities Coordinator or the appropriate club adviser listed below.
ASB
Advisor: Trevor Roberts
troberts@cpps.org
The ASB takes on a tremendous responsibility not only to serve their fellow students, but also to represent CPHS. The work of an ASB Officer is an essential part of the well being of the entire CPHS community and they accept significant responsibility for the direction CPHS will take in the coming year. Serving as an ASB Officer may be challenging, but it's extremely rewarding and the leadership skills learned are essential skills for life. Elections are held each spring and are open to all grade levels.
Getting Involved: A majority of our student population are involved in sports and/or clubs. They assist in building our school culture and community by allowing students to explore many interests while building key leadership and soft skills. We encourage all students to find something that they fits their interest. Clubs are a good way to seek knowledge about what you might want to do for a career. CPHS offers many after-school activities and clubs. We highly encourage all students to get involved at CPHS and make a difference in our school and community.
HOW TO START A NEW CLUB OR GROUP
ENGLISH- Application Link for starting an CPPS ASB Affiliated Club (click to download)
ENGLISH- Application Link for starting a CPPS Group (click to download)
SPANISH- Application Link for starting an CPPS ASB Affiliated Club (click to download)
SPANISH- Application Link for starting a CPPS Group (click to download)
| Current CPHS ASB Affiliated Clubs | Adviser |
| --- | --- |
| ASB (Associated Student Body) | Trevor Roberts- troberts@cpps.org |
| FFA (Future Farmers of America) | Mindy Puller- mpuller@cpps.org |
| FBLA (Future Business Leaders of America) | Matt Raikes - mraikes@cpps.org |
| Yearbook | Cathy Mebes- cmebes@cpps.org |
| Drama Club | TBD |
| Key Club | Madison Elmenhurst- melmenhurst@cpps.org |
| National Honor Society | Charles Zeller - czeller@cpps.org |
| Latino Club | Edith Martinez- emartinez@cpps.org |
| Rainbow Alliance | McKenzie Maxwell - mmaxwell@cpps.org |
| | |