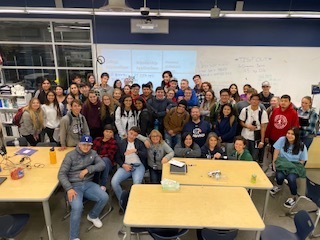 CPHS College Application DAy
Heidi Wells
Monday, November 25, 2019
On Friday, November 22, CPHS completed the first ever College Application Day. It was a roaring success!
In attendance were 65 seniors eager and motivated to work on all types of post-secondary applications.
The work was fueled with 26 large pizzas, 6 dozen donuts, several cases of soda, and quite a bit of candy and snacks. It was a fun environment where we rang a bell to celebrate each time an application was completed cheering on each student's hard work.
The staff is excited to make this a CPHS tradition each year and they want to thank the College Place Boosters for their monetary support!

Remember, many of our seniors will be the first in their families to be accepted into a college or university. The support they received from the community volunteers and the Pathway team showed our students that they are capable of a future that includes college!
In total, 53 college applications were completed, 22 scholarship applications were completed and 8 personal statement essays were completed. Go Hawks!