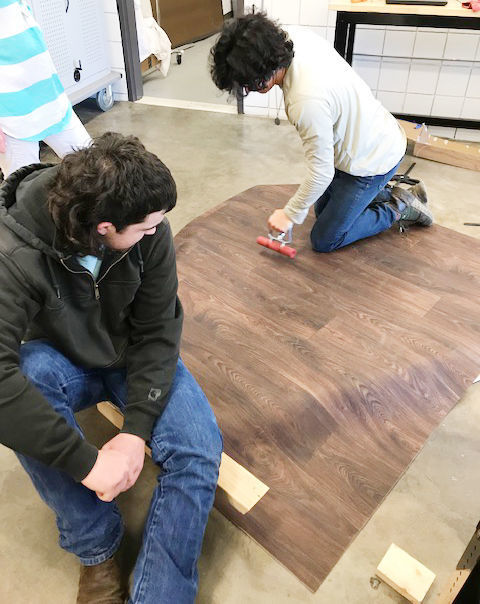 Students craft portable stage for festival musicians
Heidi Wells
Monday, June 10, 2019
While attending Walla Walla Chamber Music Festival events this month, a new player of sorts will be center stage.
For the festival's 12th season, College Place High School dream lab students constructed a portable, sectional, customizable platform for performances presented in various places around the community through June 29.
Festival founder and Artistic Director Tim Christie long wanted a portable stage to use at performances held in unique locations such as wineries, vineyards, school libraries and other venues, said Jennifer Northam in a release.
"A look at existing prefab options was disappointing," she said, as none met festival needs. "Something custom-made was the only answer and seemed financially out of reach."
WWCMF board member Ron Jamison, a logistical and equipment manager, proposed a partnership with Byron Trop, CPHS physics and engineering teacher, and his students.
With design assistance from Jackson Maberry, former summer festival coordinator, now learning the art of violin making at the Jacobs School of Music in Indiana, and step-by-step consultation with Tim and Nathan Fairbanks, festival logistics support — the one who moves and sets up the stage — a prototype was produced over the winter.
Once approved, the modular, custom stage took shape this spring.
"Look for it around town during the (festival's) 29 performances and rehearsals held in just 24 days," Jennifer said.
A schedule of festival events is in the June 6 issue of Marquee, the day of the first concert. See also wwcmf.org/events-1 for event listings.
Etcetera appears in daily and Sunday editions. Annie Charnley Eveland can be reached at annieeveland@wwub.com or afternoons at 526-8313.