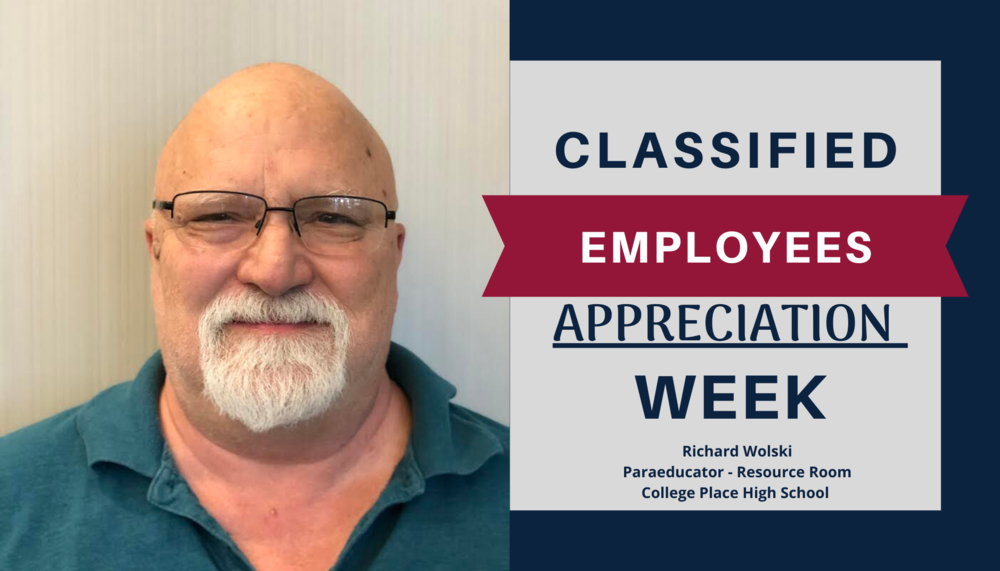 Get to know Richard Wolski
Heidi Wells
Friday, March 13, 2020
Richard Wolski
Paraeducator
College Place High School
Years at CPPS 1
What did you want to be when you grew up?
I wanted to be two things: to be an opera singer and electronics. I actually went to college for one year to learn to do this.. And I ended up working for Xerox for 32 years.
Who was your favorite teacher and why?
My favorite teacher was Mr. Blalock who taught US History. His was one of the few classes I didn't try to get out of in my Junior Year. He just was easy to understand and I really enjoyed his teaching style.
What is one fun fact about yourself?
I studied to become an opera singer and I play the bass guitar.
What is your biggest life lesson?
There is a plan for us and just trust in that plan.
Why do you love working at CPPS?
My work here is a continuation of my work with teens. I love seeing the progression of growth in the students over the year.
Shannon Schreindl says "Richard is an all around great guy. He jumps in anywhere he is needed and is willing to do anything asked of him. Between taking care of student needs in the classroom, he also helps out in the Commons at lunch and is the crossing guard after school. We're lucky to have him!"
Thanks Richard!