EDIT MAIN
This page will be updated with information related to the Class of 2020 Graduation plans given our current COVID-19 distancing orders.
Updated: June 30, 2020
July 30 Event Cancelled
Due to the fact that Walla Walla County has not been able to move into Phase 3 and it is unknown when this will occur, we feel it prudent to cancel the event on July 30th.
We have learned many new things since this original plan was put into place and need to be sensitive to our county's work to combat the spread of the virus. The Class of 2020 will forever hold a special place in CPHS history and we are disappointed not to be able to have one final celebration of their accomplishments. However, we know that they too understand the complex issues we are dealing with managing the health and welfare of our community.
We loved seeing you all during our June 6th graduation drive-through event and wish the Class of 2020 nothing but the very best on all your future endeavors!
Go Hawks!!
Class of 2020 Commencement Video
Here is the Graduation 2020 Live Stream recorded video posted on our district's Facebook page: Class of 2020 Commencement Graduation Video
Graduation Date June 6 2020, at 6:00 PM.
CPHS Stadium Drive-Through Graduation and City of College Place "Cruise"
Spanish Version Video:
Please watch the Graduation Directions Video above.
The Class of 2020 graduates and their immediate family members (this is due to social-distancing requirements) are invited to attend our Stadium Drive Through Graduation event and City of College Place "Cruise" on Saturday, June 6th at 6:00pm.
For further details, please watch the Gradation Direction video above.
•We expect that graduates and only their immediate family arrive at the stadium in one vehicle. One car per family. Everyone must remain in their vehicles during the duration of the event.
•We encourage the vehicles be decorated in school spirit for the Class of 2020. Have fun with it! Car decor will be available for pick-up during Yearbook and Cord distribution, see below.
•Staff will assist as parking attendants to guide the vehicles in an organized fashion upon entrance into the stadium parking lot.
•The entire event will be live-streamed on our Facebook social media platform.
•There will be an opportunity for the Class of 2020 to participate in the "turning of the tassels".
•Each graduates name and a short bio will be read, and a photo opportunity outside of the vehicle will be provided for the graduate.
•Vehicles will be routed past the backside of Sager campus to the stadium bus loop area where the stage will be set on the outdoor basketball hoop area, before being dismissed out the Stadium Parking Lot onto College Avenue at which time the students and their families are invited to participate in the City of College Place "cruise". An informal, un-routed, drive in College Place to celebrate your graduation. Members of the community may decide to sit outside and wave and cheer our graduates as they see their decorated vehicles pass by, however, please do not encourage other family or community members to gather or meet at the stadium or in other locations around town to view the cruising event.
•We ask that once the vehicle leaves campus, they do not return. Remember the event will be live-streamed so you will be able to see your "friend's moment in the spotlight" digitally.
Additional Late Summer Gradation Ceremony: Thursday July 30, 2020 at 8:00pm at the CPHS Stadium.
On Thursday, July 30th, we invite graduates and their guests to attend an informal graduation ceremony at the high school stadium. We are hopeful that by late July we will have been released into Phase 4 of the Governor's tiered distancing release plan, and will be able to have an in-person celebration event. By July 17th, we will communicate if this event will have to be canceled due to the unlikelihood of the social distancing order being lifted.
•The program for this event is currently being developed.
•Our current vision for this event is that it is far less formal with students free to wear their graduation caps along with comfortable summer attire.
•It will run from 8:00pm to 9:30pm, treating the Class of 2020 to a sunset graduation with hopefully cooperative weather.
•We are working on a potential fireworks display to close out the ceremony.
Senior Class Party: Immediately following the late July summer graduation ceremony, seniors are encouraged to attend the senior class party at the Milton Freewater Drive-In. This event is put on by senior class parents. For more information on the senior party please email "CPHS Senior Event" at cpseniorevent@gmail.com.
Senior Recognition and Awards Banquet
We are planning on a virtual Senior Awards and Recognition Video for June 3rd 2020, time still to be determined. This will be an opportunity to tune in and watch as we celebrate student involvement in a variety of activities, honor scholarship recipients, and present senior awards. A link to the video will be provided.
We will update this website with more information on the Senior Awards and Recognition Video.
Baccalaureate
Cancelled for the Class of 2020.
Picking Up Graduation Cords, Yearbooks, and Car Decoration Supplies
Update (5/25/20): Jostens has just informed us they will be unable to meet our deadline for yearbooks. We will communicate a new plan with you once we know when to expect the yearbooks in our possession. We apologize for the miscommunication and delay.
The June 2 event, however, will still go on as planned.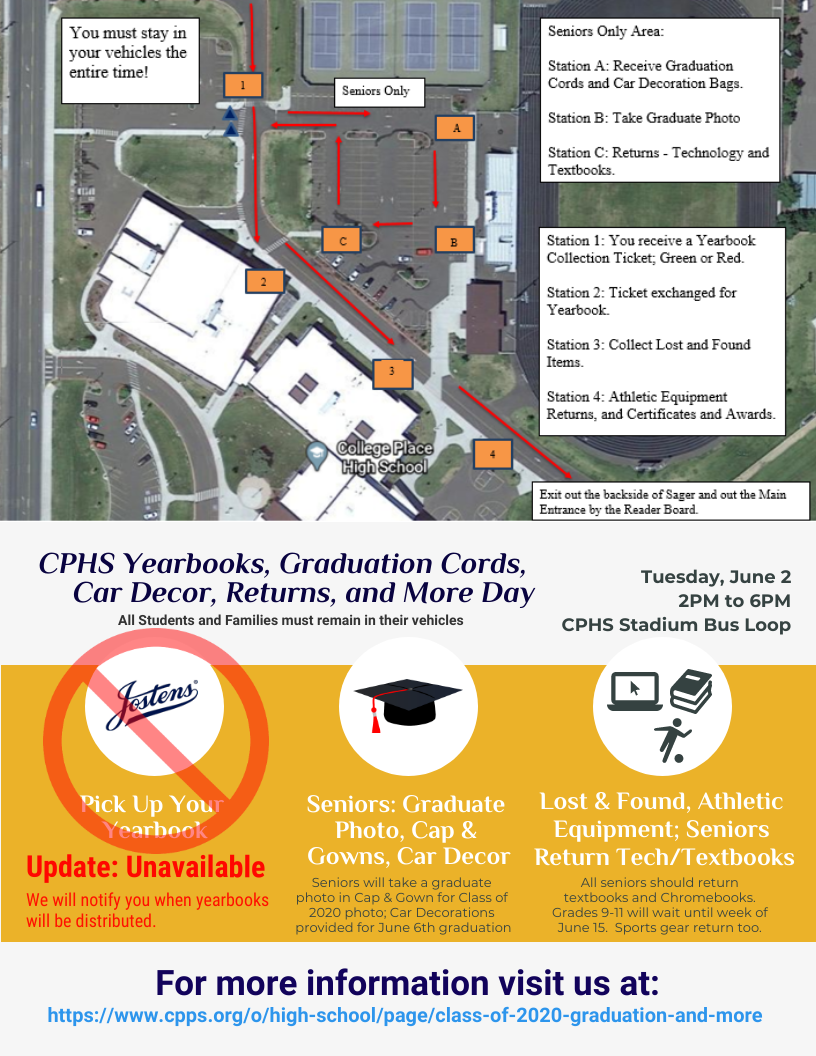 On Tuesday, June 2 from 2:00-6:00pm, College Place High School will be distributing yearbooks for students in grades 9-12 who have already purchased one. Students will not be able to engage in any signing activities or request staff sign yearbooks at this time.
Additionally, seniors we are asking for you to come dressed in your gradation Cap & Gown.
As a senior, you will be directed into a separate parking lot area to be given the following items and complete these tasks:
Provided Graduation Cords (if applicable)
Provided Car Decoration Goodie Bags (courtesy of your ASB) for our June 6th Drive through Graduation Ceremony and City of College Place Cruise.
Be allowed to exit your vehicle at the designated area for a professional photograph by Mark Vandonge photography. Please be in your full Cap & Gown for this photo. We will be combining each individual photo into a Class of 2020 Graduates photo that we will be providing you later this summer, free of charge. Only the senior student will be allowed out of their vehicle at this designated area and must follow the direction from staff.
Return all CPPS textbooks and technology, including any Chromebooks or Laptops that were checked out to you during the school closure.
Seniors will then be guided to the stations for yearbook pick-up, lost & found, and athletics equipment and gear return along with the other grade levels. See details above.
This is a stay-in-your-vehicle drive through event. We are asking that you enter into the stadium parking lot and follow the guidance from stationed staff while remaining in your cars for the duration of the time you are on campus.
Graduation Week Timeline
| | | |
| --- | --- | --- |
| Event | Date and Time | Location |
| Pick-Up Event: Yearbooks, Cords, Car Decoration Items | June 2, 2020; 2:00pm-6:00pm | CPHS Stadium Parking Lot Loop |
| Baccalaureate Celebration | Cancelled | Cancelled |
| Senior Awards and Recognition Event | Wednesday, June 3, 2020. | Virtual Celebration: Link will be provided |
| Graduation Ceremony: Stadium Drive Through Event and City of College Place "Cruise" | Saturday, June 6, 2020; 6:00 PM | CPHS Stadium |
| Additional Late July Graduation Ceremony | Thursday, July 30, 2020; 8:00-9:30pm | CPHS Stadium |
| Parent Run Senior Graduation Party | Thursday, July 30, 2020; After the Stadium celebration and fireworks display. | MF Drive-In |