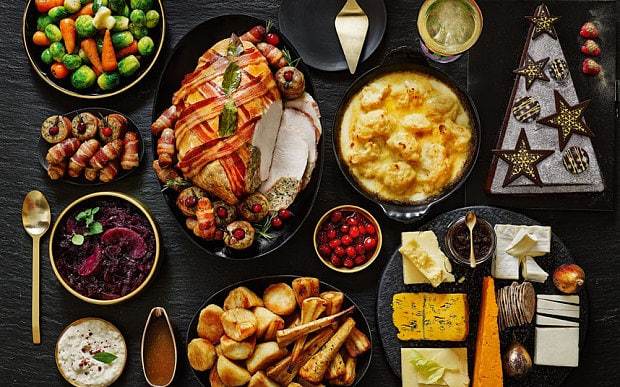 Second Annual CPHS Christmas Lunch
Scott Kasenga
Wednesday, November 29, 2017
Greetings CPHS families,
It is that special time of year again at College Place High School. We are planning our Second Annual Christmas Eve Luncheon to kick off the holiday season. As part of College Place High School's guiding principles, our aim is to insure that our students have and continue to "build relationships where they feel connected, valued, and inspired." Our goal is to create a family within the walls of this school and to extend this family to our student families in our community. This is an opportunity to build up and guide our students to become leaders in service. In the spirit of Christmas, College Place High School would like to continue our tradition of bringing together our community of families from outside our walls.
On Saturday, December 23 at 12:30pm we will be opening up our school to the families of our students and having our Christmas Eve luncheon. During our luncheon there will be various presentations and performances by our students.
The luncheon is free, however, there will be a drop box for canned goods to help our local food bank if you are able to donate.
Space is limited, and in order to provide the proper amount of food, please RSVP with the number of attending by Friday, December 15th either by phone at 509-522-3312 or by returning the attached form to the front office.
If you have any questions or would like to help in any way, please feel free to contact any of our Pathways Specialists:
Seniors: Anabrenda Blethen – ablethen@cpps.org
Juniors: Sam Dering -sderting@cpps.org
Sophomores: Heidi Shumate – hshumate@cpps.org
Freshman: Elizabeth Taylor – etaylor@cpps.org
Thank you so much for your vested interest in your child's education. We hope you take this opportunity to spend time with new friends and cherish the company of of family this season. We look forward to seeing you.
Saludos Familias de CPHS,
Es una vez más el tiempo especial del año en la Escuela Preparatoria de College Place. Nosotros estamos planeando nuestra Segundo Almuerzo Anual de la Noche Buena y hacer inicio a la temporada festiva. Como parte de los principios de guía para la Preparatoria de College Place, nuestra meta es de asegurar que nuestros estudiantes tengan y continúen en "construir relaciones donde se sienten conectados, valorados e inspirados". Nuestro objetivo es crear una familia dentro de las paredes de esta escuela a construir y guiar a nuestros alumnos a ser líderes en servicio y a esa familia fuera de estos muros se extienden a las familias de nuestros alumnos. En el espíritu de la Navidad, la Preparatoria de College Place le gustaría continuar con nuestra tradición de unir a nuestra comunidad de familias fuera de estas paredes. El sábado, 23 de diciembre a las 12:30 pm estaremos abriendo nuestra escuela a las familias de nuestros alumnos y tendremos nuestro almuerzo de la víspera de Navidad. Durante el almuerzo habrá diversas presentaciones y actuaciones de nuestros alumnos. El almuerzo es gratis, sin embargo, habrá un buzón para las mercancías conservadas para ayudar a nuestro banco de comida local si ustedes pueden donar. El espacio es limitado y para proporcionar la cantidad adecuada de alimentos, por favor confirme su asistencia con el número de asistentes para el viernes, 15 de diciembre ya sea por teléfono al 509.522.3312 o enviándonos el formulario adjunto a la oficina. Si usted tiene alguna pregunta o quisiera ayudar de cualquier manera, no dude en comunicarse con cualquiera de nuestros especialistas de pista:
Estudiantes de Último Año : Anabrenda Blethen – ablethen@cpps.org
Estudiantes de Tercer Año : Sam Derting – sderting@cpps.org
Estudiantes de Segundo Año : Heidi Shumate – hshumate@cpps.org
Estudiantes de Primer Año : Elizabeth Taylor – etaylor@cpps.org