EDIT MAIN
Athletics & Activities
The goal of the Athletics & Activities Department at College Place Public Schools is to provide opportunities for students to build their character and become a productive citizen. We encourage students to express themselves though athletics and activities to learn critical thinking skills, experience individual excellence while being part of a team or club.
College Place High School is a member of the WIAA, Washington Interscholastic Activities Association. In addition we are a member South Central Athletic Conference for the upcoming 2017-2018 school year.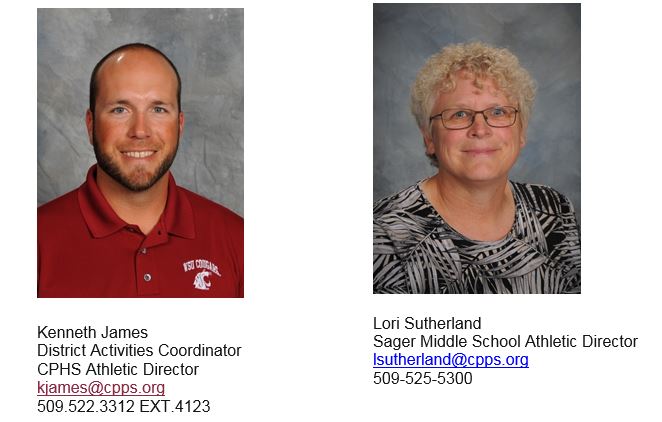 Cheryl King
Athletics & Activities Secretary
cking@cpps.org
509.522.3312 EXT. 4021
College Place Public Schools currently has two ways for you to stay up to date regarding schedules for all College Place High School and Sager Middle School sporting events.
R SCHOOL TODAY ACTIVITY SCHEDULER APP
R School Today Activity Scheduler App- you can download in the Apple or Google Play Store
-Select Washington State, South Central Athletic Conference, College Place High School and you are on your way, I also recommend that you share this App with parents and Community Members!
-You can also sign up for notifications to get score updates, and changes to the schedule!
You can also visit scacconference.org –this is a link to the Conference Website, which will take you to College Place High School.
Select College Place High School on the right hand side under SCAC 1A League Schools, you will be taken to the R School Today webpage, and then you can access many scheduling, scoring, and standings for a variety of sports! To use more extensive filters use the Advanced View Report at the bottom of the page.
You can also sign up for notifications to get score updates, and changes to the schedule!
We encourage parents to download the App and visit the SCAC Conference website, as it will always be the most current and accurate place to find Game Information for CPHS Athletics.
Values
The College Place School District staff, students, and parents hold the following values:
Leadership Development
Selflessness in Service of Others
Team- Togetherness
Disciplined Life
Integrity
Register for Athletics
NEW REGISTRATION SYSTEM COMING SOON! CHECK BACK IN EARLY AUGUST FOR SPORTS REGISTRATION!
Registration must be completed by the parent or legal (court appointed guardian) of the athlete.
If you have multiple students you are registering, each student must be registered individually.
If you have questions about Athletic Eligibility – please contact the Athletic and Activities Coordinator to seek guidance. kjames@cpps.org
IMPORTANT INFORMATION
District Policies
Eligibility
WIAA (Washington Inerscholastic Activities Association)
Earn PE Credit
Concussions
Student/Parent Handbook
Associated Student Body
Boosters